This is the most expensive ring I've ever made!
I was hired by The Diamond Source of Scottsdale to make it for their customer in Texas. The center diamond is a cushion cut weighing 10.02 Cts, VVS G quality and worth over 1/4 million $$$$$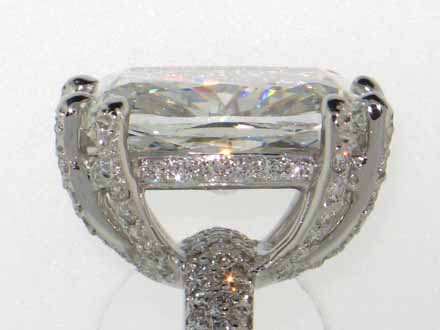 I pave' set two hundred .01 pt diamonds all over the surface. I was given the dimensions and basic design concept that the customer requested and from there I carved the wax model, had it cast in platinum, and then I set and finished it. I had less than a week to make it! The store owner delivered it himself. Thought you might enjoy seeing these pictures. 
"I am so grateful to God for creating beautiful rare gems and thankful for the opportunity to dress them up! Wishing you sparkling gemstone blessings!"……….Donna
---